Materials Characterization Facility
Focused on science, technology, and innovation, the Materials Characterization Facility (MCF) provides access to a variety of resources and services to support research activities and development in materials science.

Modern instrumentation integrated at the MCF is operated by a multidisciplinary team of experts to support comprehensive analysis at the micro to the nanoscale, promoting the development of novel materials and technologies.

We provide opportunities for researchers from diverse backgrounds, including Ontario Tech faculty and students, as well as external partners to explore, learn and successfully collaborate.
X-Ray Photoelectron Spectroscopy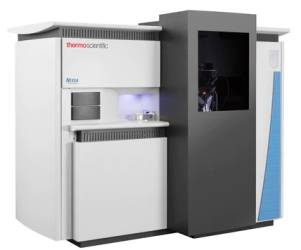 X-Ray Photoelectron Spectroscopy is a non-destructive surface analytical technique used to determine the quantitative atomic composition and chemical state of the elements within a surface of solid material. 
The facility is equipped with Nexsa ThermoScientific System that integrates XPS, Auger Electron Spectroscopy (AES), Reflected Electron Energy Loss Spectroscopy (REELS), and Raman that allows users to conduct true correlative analysis, unlocking the potential for further advances in microelectronics, ultra-thin films, nanotechnology development and many other applications.
Scanning Electron Microscopy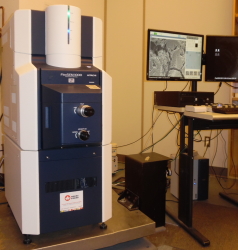 Hitachi's FlexSEM 1000 Scanning Electron Microscope (SEM) enables superior imaging of specimen surfaces at high- and low-accelerating voltages with up to 5 nm resolution. In addition to the ability to operate in secondary, backscattered and mixed modes, the instrument is equipped with a Peltier-cooled energy dispersive X-ray detector (EDS) for quantitative elemental analysis and mapping. 
3D Profilometery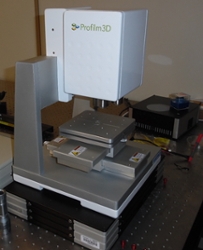 The Profilm3D profilometer uses state-of-the-art non-contact white light interferometry (WLI) to measure surface profiles at the micrometre scale. The software allows not only feature dimensions visualization but also the calculation of 47 standard ASME/EUR/ISO roughness parameters. 

Atomic Force Microscopy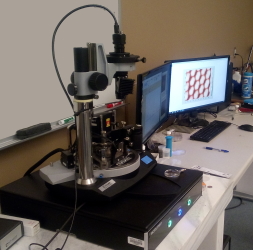 NTEGRA by NT-MDT is a multifunctional Scanning Probe Microscope for performing the most typical tasks in the field of Atomic Force Microscopy (AFM). At MCF, it is used for high-resolution studies and is aimed for molecular-scale imaging. The tip-sample force interactions, which are different in the various AFM modes, help to visualize numerous types of structures anchored to smooth surfaces.
Surface Area and Pore Size Analyzer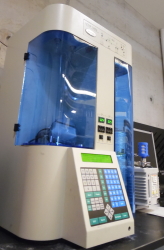 NOVA 1200e BET nitrogen absorption instrument is used for surface area measurements and determination of pore size distribution in solid and powdered materials. Pore size analyzer capable of measuring both adsorption and desorption isotherms in a few hours.
Thermal Analysis (TGA/DSC)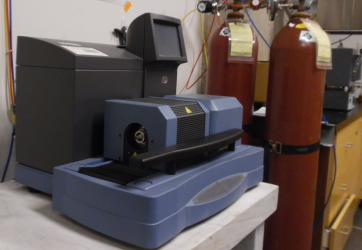 The TA TA Instruments SDT Q600 provides simultaneous measurement of weight change (TGA) and true differential heat flow (DSC) on the sample upon heating from ambient to 1500°C.
Ellipsometry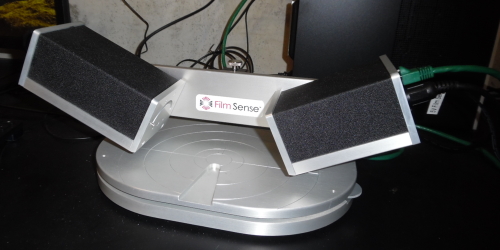 Film Sense Multi-Wavelength Ellipsometer allows thickness determination of most continuous thin films (1 – 1000 nm). 
UV-Vis and FTIR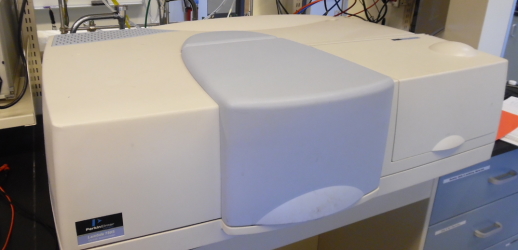 Optical properties of continuous solids such as glass, textiles, polymers, and coated surfaces can be measured using PerkinElmer LAMBDA 750 UV-Vis-NIR spectrometer equipped with a 60 mm integrating sphere, which is designed for specular, diffuse and total reflectance measurements of solids. 
---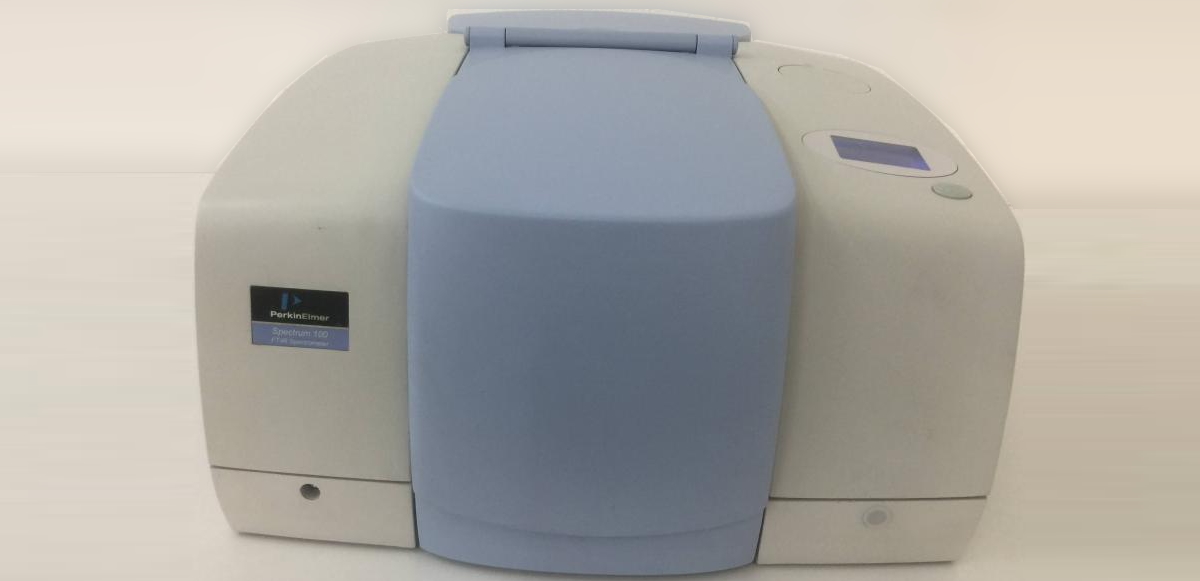 PerkinElmer Spectrum 100 FT-IR Spectrometer can perform measurements on samples embedded in KBr pellets. In addition, HATR accessory allows direct measurements of materials surfaces and coatings.
Spectrofluorometer
(Will be installed and ready to work in July 2022)
FluorologQM-75-22-C is an all-reflective spectrofluorometer equipped with double excitation and double emission monochromators with perfect focus at all wavelengths and the highest guaranteed sensitivity specification in the world. It is built to perform steady-state (absorption, emission) and time-resolved (phosphorescence) measurements. Rapid Peltier temperature-controlled sample holder receiving standard cuvettes allows temperature control when measuring solutions.  An internal integrating sphere can be used for t

he photoluminescence quantum yield determination as well as for measurements of solid samples.
Supporting Instruments
In addition to core characterization tools, the facility is equipped with a range of Supporting Instruments (SI) aimed to assist in materials preparation.
Coaters
Coaters allow thin film deposition on the substrate. 
Metal and carbon coaters allow the deposition of corresponding conductive thin layers including ~10 nm thick layers for SEM imaging of non-conductive materials and thicker gold contacts as a part of the nanolithography process. 
Spin coater allows thin film deposition on a rotating substrate by controlled drop-casting.
In addition to core characterization tools, the facility is equipped with a range of Supporting Instruments (SI) aimed to assist in materials preparation.
Location
We are located at the North campus of Ontario Tech University, Oshawa, ON, Canada.  Please access the Ontario Tech U campus map and look for Science Building (UA).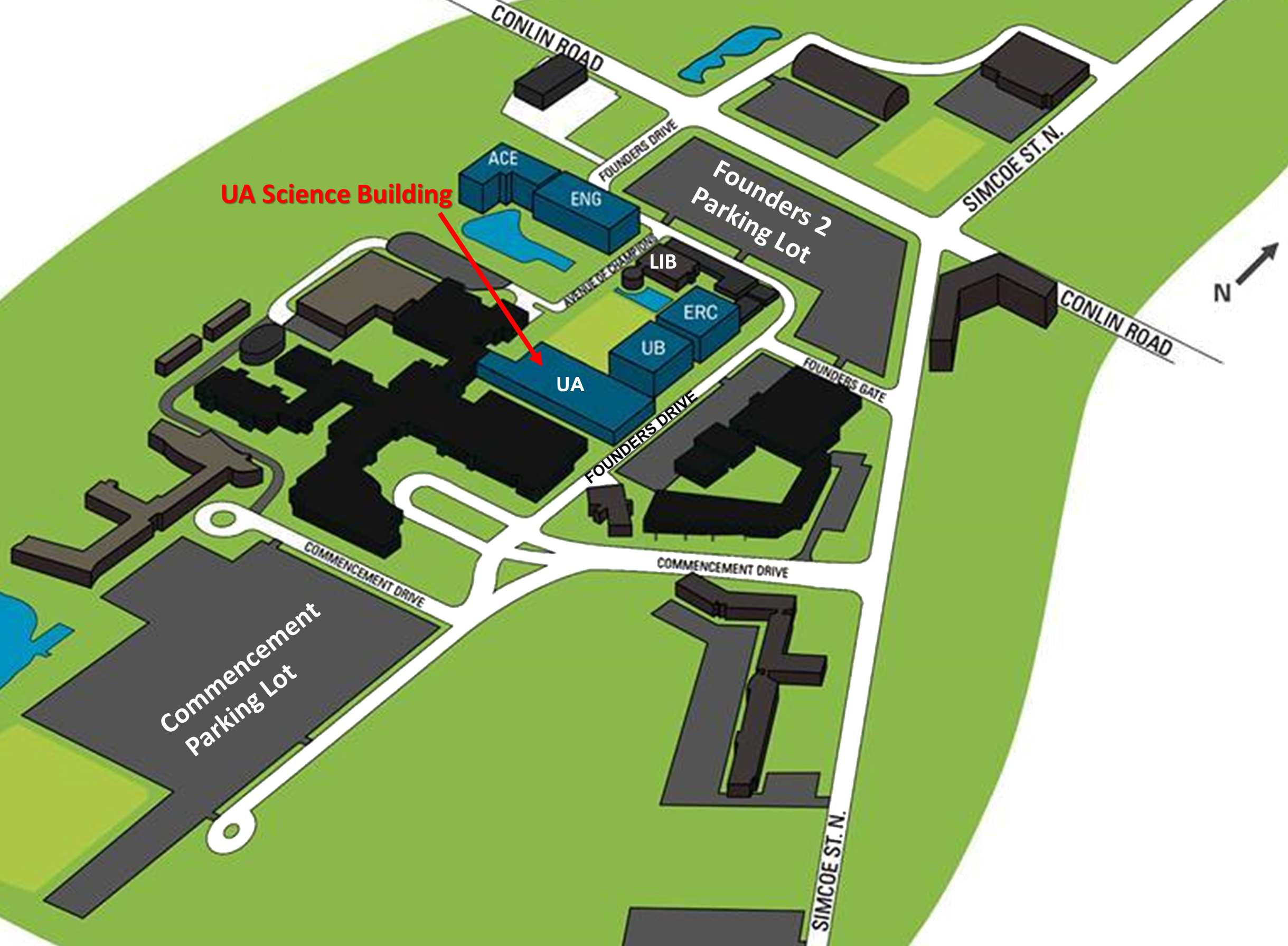 Contact us
Materials Characterization Facility (MCF)
Faculty of Science, Ontario Tech University
2000 Simcoe St N, Oshawa, ON, L1G 0C5